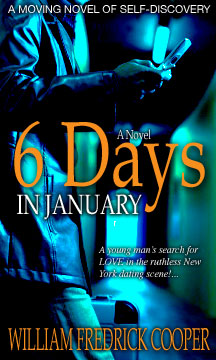 Have our women ever seen the heart of an African-American Man? Are they sensitive and caring, like us? Do we understand completely the emotional pain they experience? Too many novels today depict our men as players, cold and calculating, unfeeling when it comes to our hearts.
What if we read a story about a man who experienced the same things we do with regards to love?
Well ladies, William Fredrick Cooper has come forward to challenge our belief systems in his debut novel. Six Days In January takes us on an emotional roller coaster ride to the innermost recesses of a man's heart. While there, we are exposed to every emotion humanly possible in its rawest form.
Meet William McCall, our main character. Raised by a single mother, he is a rarity: a young man who wears every feeling he has on his sleeve. Completely open and sincere, he is ready to love with all that is within him. William is the nice guy, the one that your mother tells you not to let get away. Yet on a bitter night in January, William is out in the cold again. Deciding to do some self-evaluating to figure out what he keeps doing wrong, over the next six days he relives the events of his life that have gotten him to place where he is now: bitter, confused and cynical. Forced to deal with every bad choice he made, every hurt, and pain, defeat and loss in his life, Williams intent is to get to a place where he can heal and be able to love unconditionally again. Written from the heart of a man, who has struggled with love, Six Days In January is a truly enlightening journey into one man's battle with insecurity and emotional vulnerability. Semi-autobiographical, Six Days In January is a trailblazing piece of literature that bravely attempts to dispel all myths about our men. Powerful yet tender, the novel is as real as you are gonna get. I applaud Mr. Coopers efforts to bring the truth to the light. If you don't get to read anything else this year, make sure you read Six Days In January. You won't be disappointed.
Angie Pickett-Henderson
Readincolor Founder

In the spirit of Blackgentlemen.com come five sensual novellas about the excitement -- and danger -- of meeting someone online.
Welcome to Sistergirls.com, where men can meet the women of their dreams. Making a selection is just a beginning -- these ladies are more than mere images, and getting to know them is the really fun part. But just like most things, looks can be deceiving. And while the guys who take this plunge think they're in for the adventure of a lifetime, some of them are headed for the worst nightmare. Gathering five dramatically different voices between two covers, these stories travel the tantalizing crossroads between romance and cyberspace.
As today's world of dating expands beyond the traditional dinner-and-movie to the vast realm of Internet, this collection offers a timely and exciting glimpses into the adventures of cyber-relationships.
NOVELLAS INCLUDE:
"Legal Days, Lonely Nights" by William Fredrick Cooper
"Life Happens" by Rique Johnson
"The Wanting" by Michael Presley
"Somewhere Between Love and Sarcasm" by V. Anthony Rivers
"You are Making Me Wet" by Earl Sewell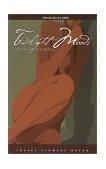 Twilight Moods
is the first independent novel to bring you stories from a dazzling array of todays hottest authors. Prepare yourself because your temperature will rise as Timothy B. McCann gives it to you "Fuller, Deeper, Smoother" while Courtney Parker is "Holdin It Down" on her end. Joylynn M. Jossel wants to know if you've been "Daydreaming at Night" and Sandra A. Ottey helps you start your workday with her "Blue-Collar Lover." Lolita Files spices up lunch with a little "Bobby Q's Sauce." Rochelle Alers steams up the evening with a hot and seductive "Anniversary."
These sensual narratives will make you "Twist" like Tracy Grants story and bring you back to read them over and over. Whether youre in the mood day or night, whenever the time is right, pick up Twilight Moods and as Eric E. Pete says, "Please Come Again."
Introduction by ZANE, bestselling author of Addicted, Shame on it All & Sex Chronicles